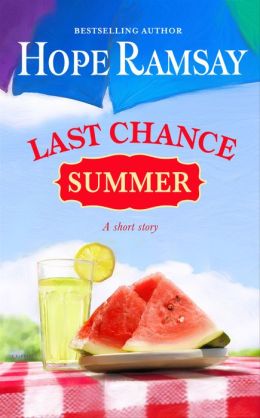 It wouldn't be summer without the Watermelon Festival, and single mom Amanda Wright is looking forward to a carefree day eating funnel cakes and sipping sweet tea. But with her inquisitive son and elderly grandmother in tow, she's not in the mood for carnival rides or the kissing booth, until she hears a charming, funny voice over the loudspeaker.
Grant Trumbull is the new DJ at the local radio station, and his deep, booming cadence has all the ladies of the church auxillary atwitter. Even without seeing his face, Amanda can't help but wonder if he's the one for her. When she finally comes face to face with the man behind the mic, summer is about to get a whole lot hotter in little Last Chance, South Carolina.
I was attracted to the short story Last Chance Summer by the promise of a short, sweet summer read, and this story certainly fulfilled my expectations—in fact, it exceeded them. This is the kind of story where you can predict the outcome from the first page, the events aren't entirely realistic, and the storyline gets a little sappy…but I didn't care. The story made me feel like I was experiencing a summer festival in a small town, and it put a huge smile on my face. Ramsay's writing was so smooth and charming, and she painted her setting and characters very well, especially considering the confines of the short story length. I am now very eager to try out the full-length Last Chance novels!
I received this book from the publisher and NetGalley in exchange for my honest review.